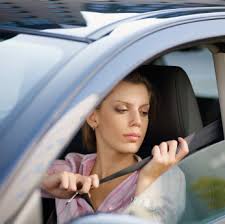 Good driving is not a commitment one makes lightly. Most teenagers get their licenses only thinking about the rewards and freedoms of driving, seldom of the consequences. If they had the driving experience they will gain over a number of years on the day they got their licenses, their approach to driving would be far different. In order to be a good driver, one needs to commit to the task on several levels. Good driving means making a commitment to staying informed, staying alert and keeping up with vehicle maintenance.
Staying informed as a driver means keeping yourself up to date on driving requirements and laws, as they are prone to change. Road legalities stay the same in general, but the specifics of road rules can change over time, and one should always keep up to date with their local motor division office through the mail or the internet to stay current on driving legislation. Vehicle insurance, conduct with a police officer and driving requirements can all be legally adjusted over night.
The importance of staying alert as a driver cannot be overstated. Operating a vehicle can cause injury and death when mishandled. It is not something anyone is intended to do without good mental clarity. A driver should always be energetic, focused, attentive and calm behind the wheel. They should always be well rested and never tired. It is never a good idea to drive emotional, so be sure to pull over if you are feeling emotionally disturbed. Never drive while under the influence of a mind or chemistry altering substance, such as alcohol or drugs.
And lastly, a vehicle must be properly maintained in order to be safe to its driver and safe to the other drivers on the road. Vehicles must pass regular safety inspections and comply to set legalities in order to be road legal. Vehicles are only able to pass inspections if they have been properly maintained, meaning all fluid levels were kept clean and full, brake pads were replaced, tires were rotated and periodically replaced and all other services the car required were kept up to date.